You know what it's like when you've been invited to an event or party months in advance of the event date, and you're looking forward to it so much and for so long but in the end, the party is so disappointing, it feels like fireworks disintegrating without an Ohhh or an Ahh on the stroke of midnight?
Well, last Saturday was completely different. The fireworks didn't stop and we carried on well after midnight. You see, a few months ago, I was invited, along with fellow authors, actors, screenwriters, to take a bus ride around the East End of London. You may be thinking that a bus ride in London or any other city is really quite normal, millions of people do it on a daily basis. But this was different. It wasn't a normal bus ride for me or the other invited guests.
This bus ride was a tour of where Ronnie and Reggie Kray were born and bred.
Yes, The Kray Twins.
If you're like me, and fascinated by the Kray Twins, especially after I first watched the movie, The Krays, starring Spandau Ballet brothers, Martin and Gary Kemp, then this is the only bus tour you will ever need to go on. THE GANGSTER TOUR UK…….
So, back to Saturday, I met my mate Nick Rippington, an author and journalist, thirty minutes before meeting the others for a quick catch up and a drink of course.
As the clock approached one thirty, the agreed time to meet THE GANGSTER TOUR bus outside Liverpool Street station, we left the pub and as we crossed the road to the pickup point, I recognised some very familiar faces in the distance. Not that I've met them before at all, apart from fellow author Donna Siggers, who was with her dad Colin.
But the other's standing around I recognised from their social media profile pictures. They were chatting, waiting in a small crowd, ready to queue for the bus and grab a seat. So, for the first time Nick and I were introduced to authors Kerry Kaya, Sandra Prior and Caroline Goldsworthy, actors Rene Costa, Grant Moreton, screenwriter Ricky Breen and his wife Katy, Jim Fletcher who's the founder of the website London Crime with his wife and family, author Andy Scott and his grandson, and actor and presenter of the Banter Show, Tony Smith AKA RISER.
So, as the bus negotiated it's way through the London traffic, we sat and chatted, with a complimentary glass of wine, as we journeyed down Bethnal Green Road, where the notorious Kray twins ruled, with informative commentary by Micky Goldtooth and Ian McKenzie.
We passed Valance Street, the birthplace of the Krays, also passing the famous Pellicci cafe, which the Krays frequented, and which was featured in the movie, Legend, with Tom Hardy who played both the twins, (who not only does Tom model himself on Ricky Breen and his St Georges tattoos, don't worry Ricky, I've got your back, but also went to the same drama school as Peter Irving. Yes that Peter Irving).
About thirty minutes later, we stopped for a drink. It's thirsty work sitting on a bus. The pub we visited was not just any pub though, it's probably the most famous pub in Kray history.
THE BLIND BEGGER
The Victorian East End pub The Blind Begger, also owned at one stage by the late and great Bobby Moore, is infamous as it's the site where, in the 1960s, Ronnie Kray shot and killed a rival criminal George Cornall.
Fantastic storytelling by Micky in the gardens of the pub. George was a member of the Richardson Gang. I've also got a little story to tell about another member of the Richardson Gang.
Many years ago, working as an estate agent (sorry about that) on Upper Street, Islington, North London, I had an appointment to visit and value a property. This older gentleman, grey hair, a few inches shorter than me, smartly dressed in a suit and tie opened the door and invited me in. I was offered a cup of tea by his wife but not before I looked around the flat taking notes. As we chatted, having tea and biscuits, he said to me, in a matter of fact manner, "Do you know who I am?" I replied, "No." I gulped when he said, "Mad Frankie Fraser." Of course, I'd heard of him, but not recognising him, I feel is the reason why he didn't instruct me to sell his property.
The final part of the tour was to visit the Clink Prison Museum. But as we walked and talked on the South Bank, Rene, Nick and I were so wrapped up in reminiscing about where we used to live, we lost (losing started here) the group. We did eventually meet up with them outside the museum, but only after they had already been inside, behind bars, with Jim being guillotined!
It was a great couple of hours on the bus tour getting to know more about The Kray Twins and their background, and I would fully recommend the trip. In fact, I think we're all going again at Christmas.
Half an hour later, once the tour was over, we gathered at another pub for further drinks and chats, as you can see from the photos below.
Later that evening, Nick and I, after losing Grant and Ricky in the crowds of London, (losing people was a common theme) watched Tottenham lose (see, losing again) to Liverpool in the Champions League Final, with a couple of guys from America we met, and once the game was over, Nick and I had one more nightcap in another bar, (most expensive cocktails he has ever bought). After Nick showing the crowd his moves on the dance floor, (I do have a recording, bids are being taken as I write to put his bopping all over social media) we went our separate ways. In fact, yes, you guessed it, we lost each other in the early hours on the busy streets of London town.   
So, this prearranged day, unlike some planned New Year's Eve parties and events I've been to, will be remembered for a number of reasons. Of course, the tour of the home and area of The Kray Twins, but also meeting so many great people that previously we've only communicated with on Twitter, Facebook and Instagram but now know personally. We talked books, films, acting, football, of course about the weather, but mainly how people online, who have communicated for a year or so, finally met and as we all said, it seemed like we'd known each other personally for years.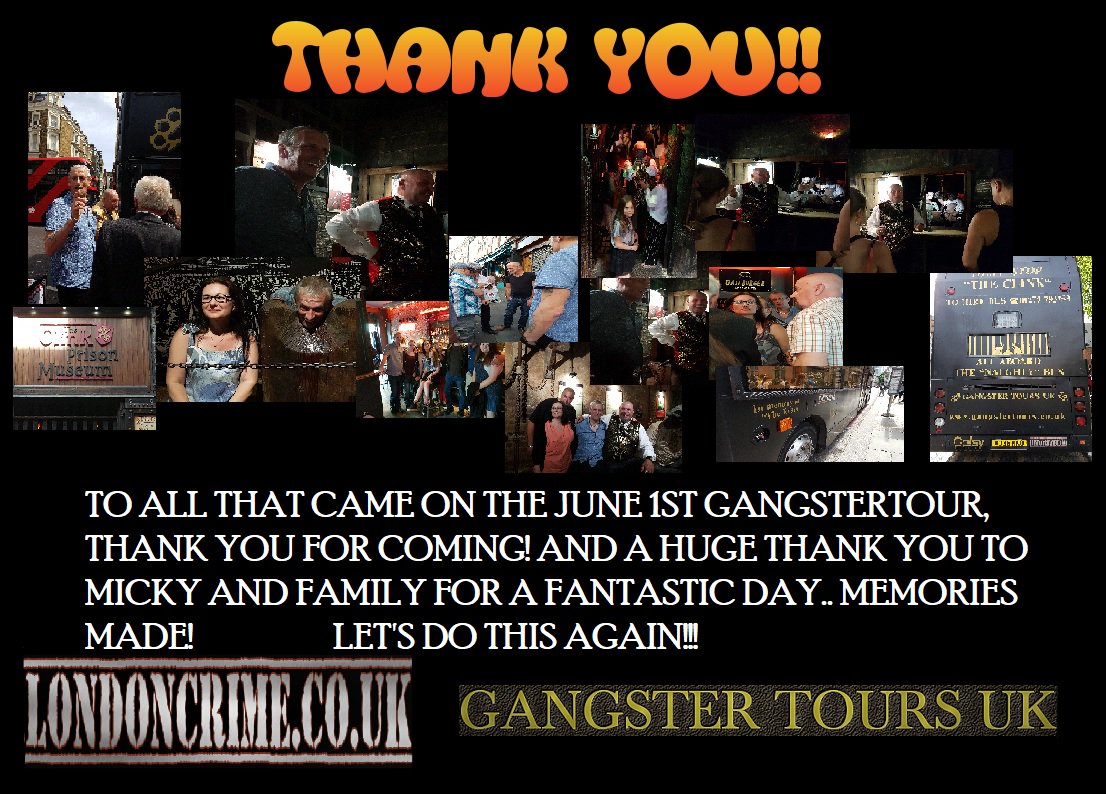 It would have been a CRIME to have missed this amazing day!